NOW PLAYING
ABBA's hits tell the hilarious story of a young woman's search for her birth father. This sunny and funny tale unfolds on a Greek island paradise. On the eve of her wedding, a daughter's quest to discover the identity of her father brings three men from her mother's past back to the island they last visited 20 years ago. The story-telling magic of ABBA's timeless songs propels this enchanting tale of love, laughter and friendship, creating an unforgettable show. Non-stop laughs and explosive dance numbers combine to make "Mamma Mia!" a smash hit! A mother, daughter, three possible dads, and a trip down the aisle you'll never forget! All set to the gold records of ABBA, including "Money, Money, Money", "Dancing Queen", "Gimme, Gimme, Gimme", "SOS", "The Winner Takes it All", "Take a Chance On Me", "Super Trouper", and so many more!
MORE INFO
Current Specials
Wednesday– Senior Night $72 + gst- for seniors 65+
Thursday– Ladies Night $75 + gst- for any ladies attending
Sunday Evening Power of 4 $75 + gst- when purchasing 4 or more
Opens February 14, 2020
In politics, the less you know, the higher you'll go! At once a razor-sharp comedy and a sincere tribute to democracy, The Outsider is a timely and hilarious take on modern politics.
In the midst of a political scandal, Ned Newley, the ultimate policy wonk, is unexpectedly thrust into the position of Governor. Ned Newley doesn't even want to be Governor. He has no political instincts, a paralyzing fear of public speaking, and his poll numbers are impressively bad. Ned might be the worst candidate to ever run for office. Unless the public is looking for… the worst candidate ever to run for office.
Politics is a visual medium. People vote for idiots who look like leaders. But Ned Newley is a new phenomenon: a leader… who looks like an idiot.
MORE INFO
Stage West Calgary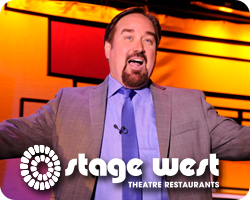 Stage West Theatre Restaurant Calgary features great food, great service and great entertainment… all in one location. Our 390 seat theatre is ramped and tiered, offering easy access and an excellent view of the stage from all locations. Stage West's sumptuous 120 item buffet is included with each performance.
We bring you the greatest entertainers from television, movies, the stage and the music world. Past stars have included Joyce Dewitt from Three's Company, George Wendt from Cheers, Richard Karn from Home Improvement, Jamie Farr from M*A*S*H and stage and screen legend Mickey Rooney.