NOW PLAYING!
                -Calgary Sun               -Calgary Herald
A Gentleman's Guide to Love & Murder is a knock-'em-dead, uproarious hit and the most nominated show of the 2014 Broadway season. With 10 Tony nominations and 4 wins, 7 Drama Desk Awards, 4 Outer Critics Circle Awards, and 1 Drama League award, making for 4 Best Musical wins!
When the low-born Monty Navarro finds out that he's eighth in line for an earldom in the lofty D'Ysquith family, he figures his chances of outliving his predecessors are slight and sets off down a far more ghoulish path. Can he knock off his unsuspecting relatives without being caught and become the second Earl of Highhurst? And what of love? Because murder isn't the only thing on Monty's mind….
A Gentleman's Guide to Love & Murder is a murderous romp filled with unforgettable music and non-stop laughs!
MORE INFO
Tribute Shows
Sign up for our e-mail newsletter, like us on Facebook or follow us on Twitter @StageWestCGY to receive announcements for upcoming concerts.
MORE INFO
Opens June 28, 2019
Fresh off the success of Legends of Rock 'n' Roll and due to popular demand, Stage West presents Legends of Country! The quintessentially rural sound of the American south has roots reaching back as far as the 1920s, having been officially recognized by the US Congress as being "born" in Bristol, Tennessee. This expedition through the music of the working class runs through the '60s all the way to the 2000s, taking stops along the way with the classic Buck Owens, the soulful Kenny Rogers, the sultry Dolly Parton, the eclectic Dwight Yoakam, the innovative Trisha Yearwood, and the electrifying Garth Brooks. Pack up the steel guitar, the country fiddle, and the vocal twang as we take a ride with the Legends of Country.
*Featured Artists Subject to Change*
MORE INFO
Opens September 6, 2019
Timothy Westerby is overworked, underpaid, stressed-out, and his daughter is getting married in what he thinks is an overly-lavish and expensive ceremony. Timothy is ripe for a nervous breakdown – and on the morning of the wedding, he has one! It takes the form of 'Polly', the most gorgeous, voluptuous girl who apparently just wants to give herself to Timothy. Pity that she is but an apparition. The fact that Polly is an apparition is of course not apparent to Timothy who is convinced that Polly is totally real and is delighted to have this sexy guest at the wedding. Timothy's wife, his mother-in-law, his daughter and the groom's parents take a slightly different view of this "uninvited guest"!
MORE INFO
Opens November 15, 2019
ABBA's hits tell the hilarious story of a young woman's search for her birth father. This sunny and funny tale unfolds on a Greek island paradise. On the eve of her wedding, a daughter's quest to discover the identity of her father brings three men from her mother's past back to the island they last visited 20 years ago. The story-telling magic of ABBA's timeless songs propels this enchanting tale of love, laughter and friendship, creating an unforgettable show. Non-stop laughs and explosive dance numbers combine to make "Mamma Mia!" a smash hit! A mother, daughter, three possible dads, and a trip down the aisle you'll never forget! All set to the gold records of ABBA, including "Money, Money, Money", "Dancing Queen", "Gimme, Gimme, Gimme", "SOS", "The Winner Takes it All", "Take a Chance On Me", "Super Trouper", and so many more!
MORE INFO
Opens February 14, 2020
In politics, the less you know, the higher you'll go! At once a razor-sharp comedy and a sincere tribute to democracy, The Outsider is a timely and hilarious take on modern politics.
In the midst of a political scandal, Ned Newley, the ultimate policy wonk, is unexpectedly thrust into the position of Governor. Ned Newley doesn't even want to be Governor. He has no political instincts, a paralyzing fear of public speaking, and his poll numbers are impressively bad. Ned might be the worst candidate to ever run for office. Unless the public is looking for… the worst candidate ever to run for office.
Politics is a visual medium. People vote for idiots who look like leaders. But Ned Newley is a new phenomenon: a leader… who looks like an idiot.
MORE INFO
Opens April 24, 2020
Members of the SoulMusic Hall of Fame, the Songwriters Hall of Fame, the Rock and Roll Hall of Fame, and the Hollywood Walk of Fame, brothers Eddie & Brian Holland, and Lamont Dozier, collectively known as "Holland-Dozier-Holland", wrote and produced a cornucopia of hits that helped develop and ultimately define the MOTOWN sound through the 1960s and 70s. Despite their success writing for legendary artists like The Supremes, Martha and the Vandellas, The Four Tops, and The Temptations, the trio's success was not without its trials and tribulations. Eddie struggled with stage-fright in his early career as a performing artist; a decade-long battle with Eddie's former mentor and MOTOWN founder, Berry Gordy, saw them lose the legal rights to use their names in crediting their own works; and an internal conflict eventually led to partners sitting on opposing sides of a courtroom. These were parts of the journey that shaped the lives and careers of H-D-H. But over the course of their career, these musicians, producers, and lyricists succeeded in selling over a quarter of a billion records. Relive the music and experience the fascinating story of H-D-H as the soul of MOTOWN.
MORE INFO
Opens July 3, 2020
Once upon a time, there were four guys (Sparky, Smudge, Jinx and Frankie) who discovered that they shared a love for music and then got together to become their idols – The Four Freshman, The Hi-Lo's and The Crew Cuts. Rehearsing in the basement of Smudge's family's plumbing supply company, they became "Forever Plaid". On the way to their first big gig, the "Plaids" are broadsided by a school bus and killed instantly. It is at the moment when their careers and lives end that the story of Forever Plaid begins….
Singing in close harmony, squabbling boyishly over the smallest intonations and executing their charmingly outlandish choreography with overzealous precision, the "Plaids" are a guaranteed smash, with a program of beloved songs and delightful patter that will keep you rolling in the aisles when you're not humming along to some of the great nostalgic pop hits of the 1950s.
MORE INFO
Stage West for Kids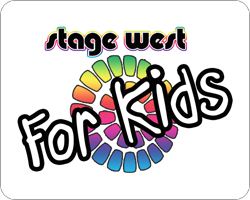 Join Stage West for the children's version of dinner theatre. For starters, Stage West displays an incredible "kids buffet" complete with all the favourites … hot dogs, pizza, Jell-O, ice cream and much more. The buffet is then followed by a live child-oriented performance with plenty of humour for parents as well.
MORE INFO
Stage West Gift Certificates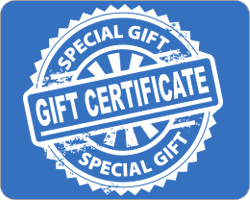 CHRISTMAS • BIRTHDAYS • ANNIVERSARIES
Stage West Calgary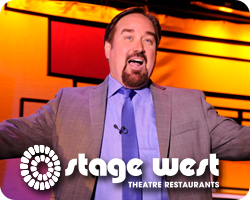 Stage West Theatre Restaurant Calgary features great food, great service and great entertainment… all in one location. Our 390 seat theatre is ramped and tiered, offering easy access and an excellent view of the stage from all locations. Stage West's sumptuous 120 item buffet is included with each performance.
We bring you the greatest entertainers from television, movies, the stage and the music world. Past stars have included Joyce Dewitt from Three's Company, George Wendt from Cheers, Richard Karn from Home Improvement, Jamie Farr from M*A*S*H and stage and screen legend Mickey Rooney.